INSTRUCTIONS
1. Read through some articles in your areas of interest on Flipboard.
2. Select an article that you find interesting, relevant, and timely.
3. BEFORE your in-class presentation, you will write a BLOG post that includes the following:
A. SUMMARIZE the article. Give us a nutshell summary of what this article is about (since most of us will not have read the article). This should be anywhere from two to six sentences in length, depending on the length and complexity of the article and the issue(s) it explore(s).
B. EXPLAIN why it is IMPORTANT and RELEVANT enough to share with the class.
C. PROVIDE your OPINION on the subject matter. (For example, if it is problem, provide a solution or talk about the root causes of the problem. If it is a human interest story, discuss why you believe it is so appealing. If it is about a scientific discovery, discuss how you believe this may change how we currently do things. These are just a few things you could discuss during this portion of your presentation.)
D. Links to FURTHER READINGS about the topic in your article.
E. BE PREPARED for QUESTIONS from Mrs. M. and your peers. Feel free to ask your peers and Mrs. Morgenson their opinions as well, to encourage discussion.
4. On the day of your presentation, TWEET a link to your blog post. Remember to use our class hashtag: #phsCONlit.
5.  During class, you will share your NUTSHELL summary and discuss the importance/relevance of the article. Then you will share your opinion. If your classmates or Mrs. M. have questions, you will answer them.
6. Once you are done sharing, everyone will visit your blog and comment regarding their own opinions. You should respond to any questions that people post, OR any comment that you decide requires a response.
PARTS OF A FLIPBOARD BLOG POST
(Here is a link to a FULL EXAMPLE: Recent Terroristic Attacks in France)
Blue Arrow: a title that sums up the basic topic of the article you've selected
Yellow Star: a LINK to your Flipboard article. (Make sure that the article is NOT filtered out at school. TEST THIS AHEAD OF TIME!)
Red Arrow: the ACTUAL title of the article, the author's name, and the news organization that s/he represents
(CLICK ON IMAGES TO ENLARGE THEM.)
Nutshell Summary Example (between two and five complete sentences in length)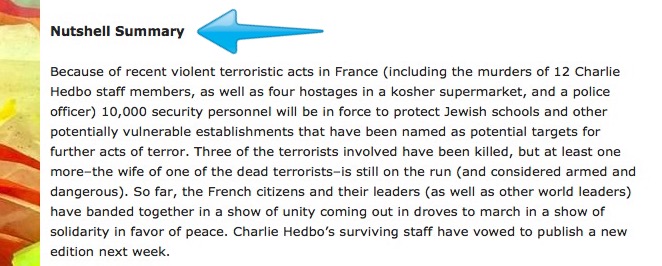 Relevance Example (Why did I choose this article? Why is it important to US as a class, or to me personally?) (between five and ten complete sentences in length)
Opinion Example (What is my opinion of the topic, issue or event that my article is about?) (between five and ten complete sentences in length)
Further Reading Example (minimum of 3 additional readings about your topic)
When you are an audience member …
A. Listen attentively. Turn toward the speaker and give him/her relaxed eye contact. Turn off devices. Stop any other activities (like reading or talking).
B. As you listen to the presentation, think of questions to ask the presenter.
C. Post COMMENTS. When the presentation is over, you will click on the tweeted link and post a QUALITY comment on the presenters blog post.
How to make a QUALITY comment:
The best types of comments are …
A. questions that extend the conversation
Why do you believe the unicameral is such a positive thing?
OR
Do you believe that this will change the way we do business in America?
B. observations about the content or style of the post
I'd never thought about deer habitats from the perspective of a deer before I read your post. Thanks for giving me another point of view.
C. counter-points to a position (done respectfully)
As someone who has experienced hunger first-hand, I disagree with your stance on welfare.
OR
I wonder where the author got these facts because I read an article a few weeks ago that stated the exact opposite of what this is saying. (Link to article.) I tend to agree with the article I just shared because the author uses scientific evidence rather than her feelings.
D. personal or observational connections you made to their post
I have been to the Vietnam War Memorial and I was able to find my great uncle's name. It was an emotional moment for my mother and me. I never knew him, but I've heard many stories about him and it made my mother cry. Whenever I see someone I care about cry, I cry. It makes me sad that he died when he was so young, but I am proud of him for giving up his life for our country.
OR
This reminds me of the book Catcher in the Rye by J.D. Salinger. He had such a bad attitude toward life and the author of your article has a bad attitude too.